Toddler Menu Planner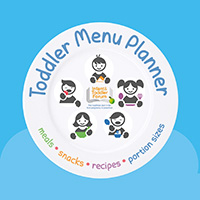 Use our Toddler Meal planning tool to ensure your 1-4 years old receives a balanced diet every day.
Find out more >
Portion Sizes for 1-4 year olds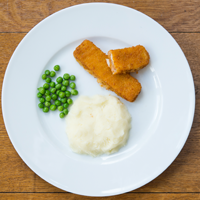 Use our portion size ranges to find out how much is too much.
Find out more >
Tot It Up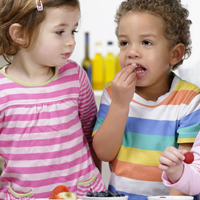 Use our toddler food tracker to check that your 1-4 year olds are getting a good balance of foods and activity
Find out more >
Guidance & Tips for Parents
Finger foods help babies to develop their self-feeding skills and learn to recognise different foods.
Feeding your baby new foods can seem like a daunting experience and you may be reluctant to give finger foods, however early in complementary feeding (weaning) soft finger foods offer the opportunity for babies to:
Touch and play with food
Learn to recognise foods visually and to associate them with their smell and taste
Develop their self-feeding skills
Soft finger foods can be introduced from early on in the weaning process. They give the opportunity for your baby to be involved in the meal and become more familiar with different foods through touch, sight and smell.
Soft finger foods to offer from the beginning of weaning
Soft roasted, steamed or boiled vegetable sticks, e.g. carrot, courgette, parsnip, pepper, potato and sweet potato
Cooked vegetable pieces, e.g. cauliflower and broccoli florets
Soft fruit pieces. e.g. mango, melon, banana, soft ripe pear, peach, papaya and kiwi
Cooked pasta pieces
Soft toast crusts
Soft cheese sticks
Pieces of fish or fish and potato cake – remove any bone
You can begin to offer firmer finger foods from around 9 months old, with many babies being able to self-feed firmer finger foods by 12 months of age.
Firmer finger foods – begin offering from around 9 months
Pieces of raw ripe fruit e.g. plums, apricots, strawberry pieces, apples
Fruits with the pips or stones removed e.g. halved cherries, halved grapes, and segments of oranges, satsumas and clementines
Raw vegetables: sticks of cucumber, peppers, courgette, carrot
Crusts of bread or toast, rice cakes, oatcakes, crackers, bread sticks
Pitta bread strips with hummus or peanut butter
Sandwiches with soft fillings
Cheddar cheese pieces
Soft cooked pieces of meat loaf, burger, chicken, falafel, bhaji and other very soft, slow cooked meat
Remember: Avoid soft round pieces of food e.g. cherry tomatoes, whole grapes, rounds of sausage – cut them in half so they are not round
A small number of babies may take much longer to learn to accept and manage these tastes and textures – keep offering them!