Toddler Menu Planner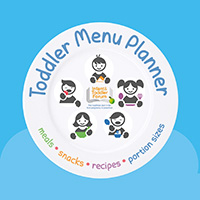 Use our Toddler Meal planning tool to ensure your 1-4 years old receives a balanced diet every day.
Find out more >
Portion Sizes for 1-4 year olds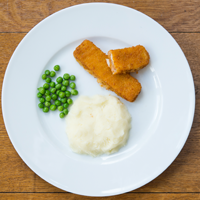 Use our portion size ranges to find out how much is too much.
Find out more >
Tot It Up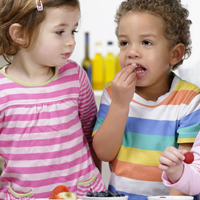 Use our toddler food tracker to check that your 1-4 year olds are getting a good balance of foods and activity
Find out more >
Guidance & Tips for Pregnancy
To maintain a balanced diet throughout your pregnancy, try our sample menu ideas Each menu offers suggestions from breakfast to the evening meal, including snacks ideas and tracking caffeine content; discover why limiting caffeine is important during pregnancy here.
The menus balance the five food groups throughout the day and they can be used a reference to create your own menus! Scroll down to read them of download them and print at home:
Menu 1: Standard menu
Meal/snack
Food and drinks
Food groups
Caffeine content (mg)
Early morning
Mug of tea with milk
 

75

Breakfast
Porridge or wholegrain breakfast cereal and milk with fresh fruit slices or dried fruit Water to drink

1, 2, 3

 
Mid-morning
Skinny latte, decaffeinated

Banana

3

2

10

Midday meal
Chicken and salad sandwich

Bunch of grapes

Water to drink

1, 2, 4, 5

2

 
Afternoon snack
Mug of tea with milk

Muffin/cake containing dried fruit

 5

Sugary food

75

Evening meal
Oily fish and potato pie with green beans Fruit salad

Yogurt

Water to drink

1, 2, 4

2

3

 
Supplements
Folic acid and vitamin D
 
 
This menu has:
Food group 1 – three servings: breakfast cereal, bread, potato
Food group 2 – six servings: fresh fruit slices/dried fruit, banana, salad, grapes, green beans, fruit salad
Food group 3 – three servings: milk on cereal and in tea, skimmed milk in latte, yogurt
Food group 4 – two servings: chicken, fish
Food group 5 – one serving: butter on bread,
Sugary food: one serving: muffin/cake
Caffeine content: 160mg
Menu 2: Vegetarian
Meal/snack
Food and drinks
Food groups
Caffeine content (mg)
Early morning
Mug of tea with milk
 

75

Breakfast
Bread/toast/chapatti
Boiled eggFresh orange segments

Water to drink

1

4

2

 
Mid-morning
Wholegrain crackers with cheese

Cup of tea with milk

1, 3

50

Midday meal
Rice and dhal

Vegetables including tomatoes

Yogurt and figs/dates

Water to drink

1, 4

2

2, 3

 

 
Afternoon snack
Nuts and pineapple chunks

Water to drink

2, 4

 

 
Evening meal
Chickpea and vegetable curry with flatbread

Mango slices

Lassi to drink      

1, 2, 4, 5

2

3

 
Supplements
Folic acid, vitamin D and omega 3
 
 
This menu has:
Food group 1 – four servings: bread/toast/chapatti, crackers, rice, flatbread
Food group 2 – six servings: orange, vegetables with dahl, figs/dates, pineapple, vegetables in curry, mango
Food group 3 – three servings: cheese, yogurt, lassi
Food group 4 – four servings: egg, dahl, nuts, chickpeas with high vitamin C foods to aid iron absorption (orange, tomatoes, kiwi fruit, mango)
Food group 5 – one servings: oil used for frying dhal and curry, Caffeine content: 125mg
Learn more about how to have a balanced diet for vegan and vegetarian mums-to-be in our blog
Menu 3: Budget menu
Meal/snack
Food and drinks
Food groups
Caffeine content (mg)
Early morning
Mug of tea with milk
 

75

Breakfast
Two Weetabixtm with milk

Banana

Water to drink

1, 3

2

 
Mid-morning
2 clementine's

Cup of tea with milk

2

50

Midday meal
Baked beans on wholemeal toast

Carrot and celery sticks

Tinned peaches

Yogurt

Water to drink

1, 4

2

2

3

 
Afternoon snack
Bread/toast with butter and jam

Cup of tea with milk

1, 5

Sugary Foods

50

Evening meal
Chicken and potato wedges

Peas and beans

Stewed apple and custard

Water to drink   

1, 4, 5

2

2, 3, 5

 
Supplements
Folic acid and vitamin D
 
 
This menu has:
Food group 1 – four servings: WeetabixTM, wholemeal toast, bread, potato wedges
Food group 2 – six servings: banana, clementines, carrot and celery sticks, tinned peaches, peas and beans, stewed apple
Food group 3 – three servings: milk on cereal and in tea, yogurt, custard
Food group 4 – two servings: baked beans, chicken
Food group 5 – two servings: butter, oil on potato wedges
Sugary food: one serving: jam
Caffeine content: 175mg
Menu 4: Convenience food
Meal/snack
Food and drinks
Food groups
Caffeine content (mg)
Breakfast
Bagel with cream cheese

Bunch of grapes

Mug of tea with milk

1, 3

2

75

Mid-morning
Decaffeinated latte

Currant bun

3

1

10

Midday meal
Hummus and roasted vegetable wrap

Fruit yogurt with blueberries

Water to drink

1, 2, 4, 5

2, 3

 
Afternoon snack
Small packet of peanuts

2 satsumas

Fizzy water to drink

4

2

 

 
Evening meal
Lasagne and green salad

Strawberries and small slice chocolate and walnut cake

1, 2, 3, 4, 5

2,

Sugary food

 
Supplements
Folic acid and vitamin D
 
 
This menu has:
Food group 1 – four servings: bagel, currant bun, tortilla in wrap, pasta in lasagne
Food group 2 – six servings: grapes, roasted vegetables, blueberries, satsumas, green salad, strawberries
Food group 3 – four servings: cream cheese, milk in latte and in tea, plain yogurt, cheese in lasagne
Food group 4 – three servings: hummus, peanuts, meat in lasagne
Food group 5 – two servings: oil on roasted vegetables and in lasagne
Sugary food: one serving: chocolate and walnut cake
Caffeine content: 85mg
For easy meal planning download our sample menus ideas for pregnant women:
A healthy lifestyle during pregnancy
1 – Standard menu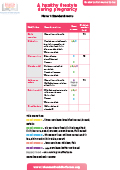 2 – Vegetarian menu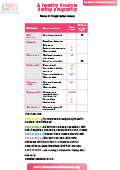 3 – Budget menu