Toddler-Sized Challenge – Toddler Guidance
When thinking about the Challenge, it might help to have in mind a typical day in the mealtimes of a toddler! Here are some examples of the sorts of foods toddlers should be eating, how often they should eat these foods and in what amounts.
A simple reminder of the food groups and how often toddlers should be eating these foods:
Bread, rice, potatoes, pasta and other starchy foods
• Offer at each meal and at some snacks
• Choose whole grain often
Fruit and vegetables
• Offer at each meal and at some snacks
Milk, cheese and yogurt
• 3 toddler portions per day
• No bottles of milk

Meat, fish, eggs, nuts and pulses
• 2 to 3 toddler portions per day
* Oils, butter and fat spreads can be included in cooking in small amounts twice a day
Our Partners
We have joined forces with several like-minded organisations to launch this competition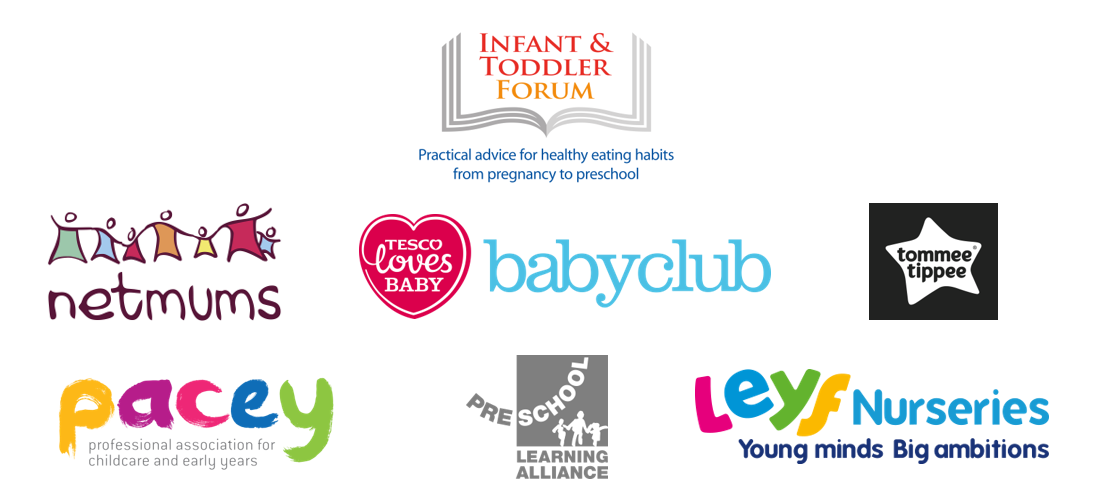 The Infant & Toddler Forum (ITF) are a team of leading experts in early years nutrition and development. The team are leading experts from paediatrics, health visiting, dietetics, child psychology, midwifery and obstetrics. The ITF promotes best practice through reliable, clear, evidence-based advice and simple, practical resources aimed at healthcare professionals, families and a wider range of stakeholders in early years and child health.
The ITF is delighted to introduce this campaign to support parents because we know that everyone working with and caring for toddlers are constantly innovating to solve everyday challenges. So, who better to recommend practical ideas to help take the guidance and make it easy for everyone to use.
Judy More, ITF member and Paediatric Dietitian & Nutritionist specialising in children's nutrition, honorary lecturer Plymouth University will be part of the Challenge judging panel.
Dr Gill Harris, ITF member and Honorary Senior Lecturer in Applied Developmental Psychology, School of Psychology, University of Birmingham and Consultant Paediatric Clinical Psychologist, Birmingham Food Refusal Service will be part of the Challenge judging panel.
Dr Rosan Meyer, ITF member and Paediatric Dietitian and Honorary Senior Lecturer Imperial College London will be part of the Challenge judging panel.
Netmums is the UK's largest parenting site – visited by 3 out of 4 UK mums every month.
More young children than ever are overweight, so Netmums is keen to work with the Infant & Toddler Forum to educate parents about portion size and encourage healthy family eating habits, which is key to tackling the UK's escalating obesity problem.
Annie-Marie O'Leary, Editor in Chief and Anh Nguyen Managing Editor will be part of the Challenge judging panel.
As Britain's leading supermarket, Tesco is committed to making it easier for its customers and colleagues to live more healthily.
Tesco Baby Club offers parents helpful advice from pregnancy and beyond – and a big part of this is health and diet. We're really excited to work with the Infant & Toddler Forum to help parents understand more about portion sizes and ways to develop healthy eating habits for life.
Alexandra Larman, Category Buying Manager will be part of the Challenge judging panel.
Tommee Tippee is the number one baby and toddler feeding brand in the UK. We are passionate about designing products that are intuitive, innovative and stylish to help parents embrace and enjoy the rollercoaster ride of bringing up baby.
We are very excited to be part of the work with the Infant & Toddler Forum to really understand how we can better support parents in ensuring growing children are given the best nutritional start in life.
James Young, Global Head of Product Development & Innovation will be part of the Challenge judging panel
The Pre-school Learning Alliance (PLA) is the largest and most representative membership early years organisation in England. We provide high quality affordable childcare and education to support children and families in areas of deprivation throughout England. An educational charity, the Alliance represents the interests of over 14,000 member settings who deliver care and learning to over 800,000 families every year.
The PLA is pleased to be involved with an initiative that supports parents and practitioners to work together to create change and enhance children's future health and development.
Michael Freeston, Director of Quality Improvement and Melanie Pilcher, Quality and Standards Manager Pre-school Learning Alliance will be part of the Challenge judging panel.
PACEY is the Professional Association for Childcare and Early Years. Formed in 1977, we are a charity dedicated to supporting everyone working in childcare and early years to provide high quality care and early learning for children and families.
PACEY are pleased to be taking part in this project and are committed to supporting early years practitioners to be able to provide healthy food for the children in their care.
The London Early Years Foundation (LEYF) is a Social Enterprise and family of 38 community nurseries across London. Our aim is to change the world one child at a time. We work with communities and parents to enrich and extend children's learning, so that each child is the best they can be.
LEYF are supporting the initiative as we feel strongly that too often parents are given inadequate information and advice regarding a healthy balanced diet for their child. This leads to confusion and often to poor choices in relation to nutrition.
April Rawlings, Property and Facilities Manager and June O'Sullivan, CEO will be part of the Challenge judging panel.