Lucy Upton, Specialist Paediatric Dietitian and Nutritionist
Christmas is a joyful time of year, however as a parent it can also be busy and sometimes stressful. Between planning festive gatherings, shopping for the perfect gifts, and decorating your home, thinking about the perfectly portioned festive meal for your toddler can be an added challenge. The Infant & Toddler Forum is here to help you create an easy and delicious Christmas plate that will save you time but more importantly, that your toddler will enjoy!
Things to keep in mind when planning your Christmas meal:
Planning is key! Since daily routines might be awry, having readily available healthy snacks prepared and ready can make a fussy or hungry child content in moments.
Toddlers may not be as keen to try and enjoy some of the traditional and unique foods that are often only offered during the festive season. Ease your child in with different tastes or textures of food, whilst keeping some of their favourite foods to hand? Slowly incorporate new foods in a fun and imaginative way. Children eat with their eyes first. If something looks unfamiliar or unpleasant try and prepare or serve it in a way which makes it more appealing for your child to try.
Christmas treats are often on every countertop at this time of year. Be sure that treats aren't in easy reach for your toddlers to sneak a sweet treat or three! Of course, they can enjoy the holiday favourites, but in moderation.
Involve your child with food preparation. Get in the spirit and play Christmas music and enjoy hands on activity! Children are more likely to eat something unfamiliar if they have helped to make it. For a festive inspired treat your toddler will love making and eating, try our strawberry Santa's: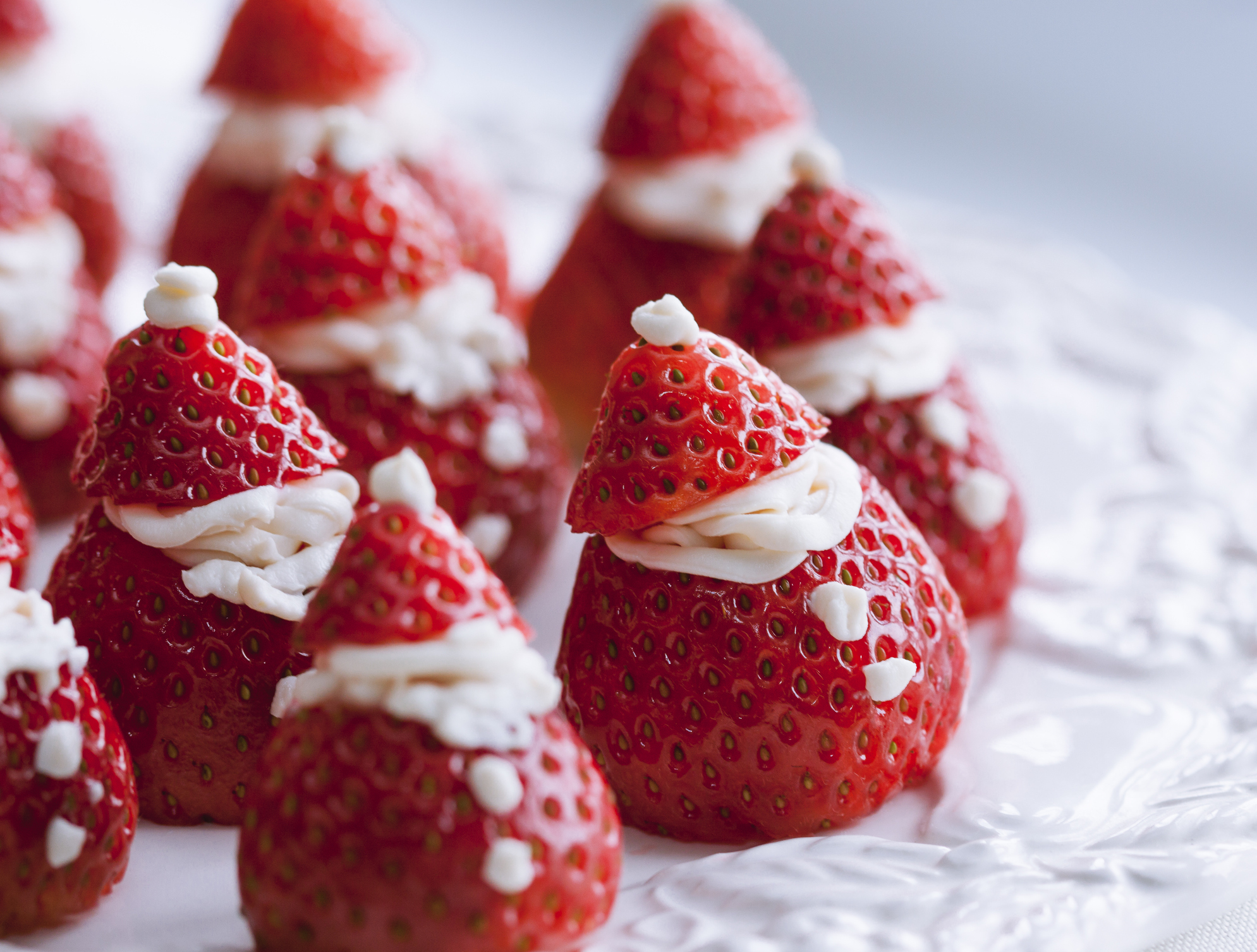 Ingredients you will need:
One punnet of strawberries (Strawberries with a pointy end will be more aesthetically pleasing)
One small pot of plain yogurt
(See portion size guide for appropriate serving suggestions)

How to make Strawberry Santas:
Wash your strawberries and flip them upside down to cut the stem and top off your strawberry, making sure to save the tip.
Give your toddler a pot of yogurt and a spoon, allowing them stick two strawberry pieces back together with a dollop of yogurt.
Work together to add a tiny dot of yogurt to the tip of the strawberry, and two little dots down the front to create
Enjoy your festive treats!
For more helpful tips and ideas, from managing food allergies during the festive season to the perfect Christmas day menu download our Festive Menu for Toddlers.
Merry Christmas and a Happy New Year from the Infant & Toddler Forum!