Portion Sizes for 1-4 year olds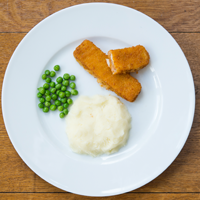 Use our portion size ranges to find out how much is too much.
Find out more >
Tot It Up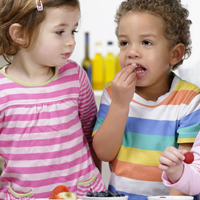 Use our toddler food tracker to check that your 1-4 year olds are getting a good balance of foods and activity
Find out more >
Guidance & Tips for Parents
The food groups are:
1. Bread, rice, potatoes, pasta and other starchy foods,
2. Fruit and vegetables,
3. Milk, cheese and yogurt,
4. Meat, fish, eggs, nuts and pulses,
5. Foods high in fat and sugar.
Download the food groups for each meal >
Meals
Nutritious Breakfasts
Are based on a starchy food such as bread, toast or breakfast cereal
Include milk, yogurt, cheese, egg or meat such as bacon or ham
Include some fruit.
Savoury Courses
Are based on starchy foods – bread, rice, potatoes or pasta
Include vegetables cooked, raw or in sauces or soups
Include a food from Food Groups 3 or 4 to provide some protein.
Second Courses
Include fruit on its own or
Along with yogurt or a pudding made with nutritious ingredients such as milk, flour, rice, bread, eggs or nuts.
Snacks
Combine foods from groups 1-4
Drinks
Offer to toddlers at each meal and snack – about 100-120ml or 3-4oz is adequate.
Downloads
Factsheets for Health & Childcare Professionals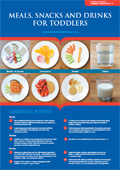 Guidance & Tips
for Parents