Portion Sizes for 1-4 year olds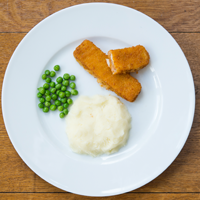 Use our portion size ranges to find out how much is too much.
Find out more >
Tot It Up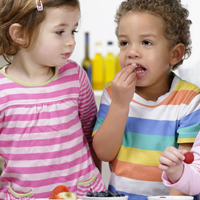 Use our toddler food tracker to check that your 1-4 year olds are getting a good balance of foods and activity
Find out more >
Guidance & Tips for Parents
Planning ahead
Make a list of meals and snacks and/or stock up on nutritious foods so that you can put together a meal in minutes
Save money by just buying the foods for nutritious meals and snacks in your menu plan
Involve your toddler in planning, shopping and preparing food
Include foods from each of the five food groups each day:
– starchy foods at each meal and in some snacks
– fruit and vegetables at all meals and in some snacks
– milk, cheese and yogurt three times over the day
– meat, fish, eggs, nuts or pulses two or three times each day (serve fish twice per week – one of which is oily fish)
– only very small amounts of food high in fat and sugar.
Reducing food preparation time
Cook a double or triple quantity of food and freeze the extra so that it can later be thawed in the fridge and then heated for a second or third meal
Add leftover meat, fish or a tin of cooked lentils or beans to stir fried vegetables. They can be served with pasta, rice or noodles
Add some extra raw or lightly cooked vegetables to a convenience meal
Serve some fruit with yogurt, fromage frais, ice cream, a small cake or a biscuit to make a nutritious pudding.
Cold meals can be just as nutritious as hot cooked meals and can be prepared quickly and easily using simple ingredients from the five food groups.
Budgeting
Fresh seasonal fruit, vegetables,meat and fish are usually cheaper than those out of season
Frozen vegetables, fruit, meat and fish are often cheaper than fresh, especially when they are out of season
Buy small amounts of foods high in fat and sugar, not multipacks
Join the Healthy Start scheme if you are on a low income, and you will receive vouchers for fruit, vegetables and milk and coupons for free vitamin supplements: www.healthystart.nhs.uk.
Downloads
Planning Meals for Toddlers
Factsheets for Health & Childcare Professionals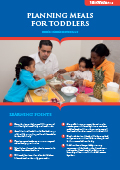 Guidance & Tips
for Parents